InGaAs Detector Controller
AP300-T2 - TE-Cooled Infrared Sensor
Features
1.2 to 2.6um Sensitivity
Extended InGaAs Sensor
0.5, 1.0 and 2.0mm dia. Active Areas
Compact Size - 1.5" Dia x 2.5"
2-Stage Thermo-Electric Cooling
Flexible Mounting Options

Applications
IR Sensing
Gas Detection
R&D
Description
The AP300-1-T2 is an amplified inGaAs senson with a 2-stage thermo-electric cooler (TEC). A low noise amplifier provides detector-noise limited performance in a compact package. The 2-stage TEC ensures low noise operation up to 2.6um and a large 1mm2 active area provides generous light collection. All that is needed is a DC power supply.
OEM custom configurations welcome. Please contact us to discuss your requirments.
Specifications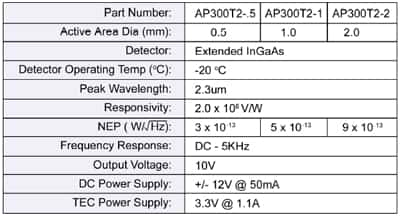 Dimensions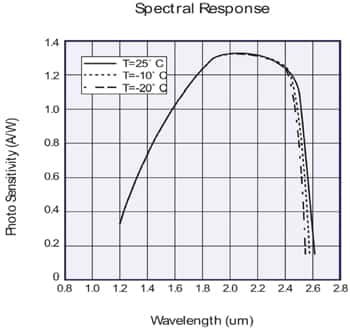 ---
About NEP
The Technical Staff at NEP has over 100 years of experience in the field of Infrared (IR) Detectors. Whether your application is Imaging, Spectroscopy, Environmental Testing, Process Control, Medical or Aerospace, NEP has the products and experience to make your program a success
Engineering and Design Services
New England Photoconductor has manufactured Infrared Detectors since 1973. During this time NEP has met detector and electronic requirements for applications ranging from gas analyzers to satellites. Linear and Focal Plane Multiplexed Arrays, our latest introduction to the market, brings innovation and low cost manufacturing to the Spectroscopy and Imaging markets.